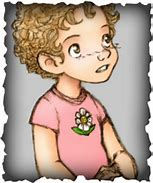 "Beeg bugs, Mama! I like beeg bugs! We go ride!"
Boots is Gregor's youngest sister. Here siblings are Gregor and Lizzie. She travels along with Gregor when he goes to the Underland. The first time she went to the Underland it was because she accidentally fell through a grate in the laundry room of her apartment.
At the beginning of the second book she is taken by the giant cockroaches who take her to the Underland. She is one of the members who goes on the quest across the waterway. When they were attacked by the Serpents in the Tankard she along with Temp, Aurora and Luxa are presumed dead. At the end of the book Boots gets back to Regalia on a Butterfly.
In the third book she is taken along in the quest to find the cure of the warmblood disease that was terrorising the Und
---